Description
Studio Presenter Lights
These studio lights are essential in a Lightboard studio set up to keep the presenter lit up. With our presenter lights, you will have all the functionality you will need to make the presenter look great on camera every time. Set it up once, and simply flip a switch to quickly and easily record your Lightboard videos.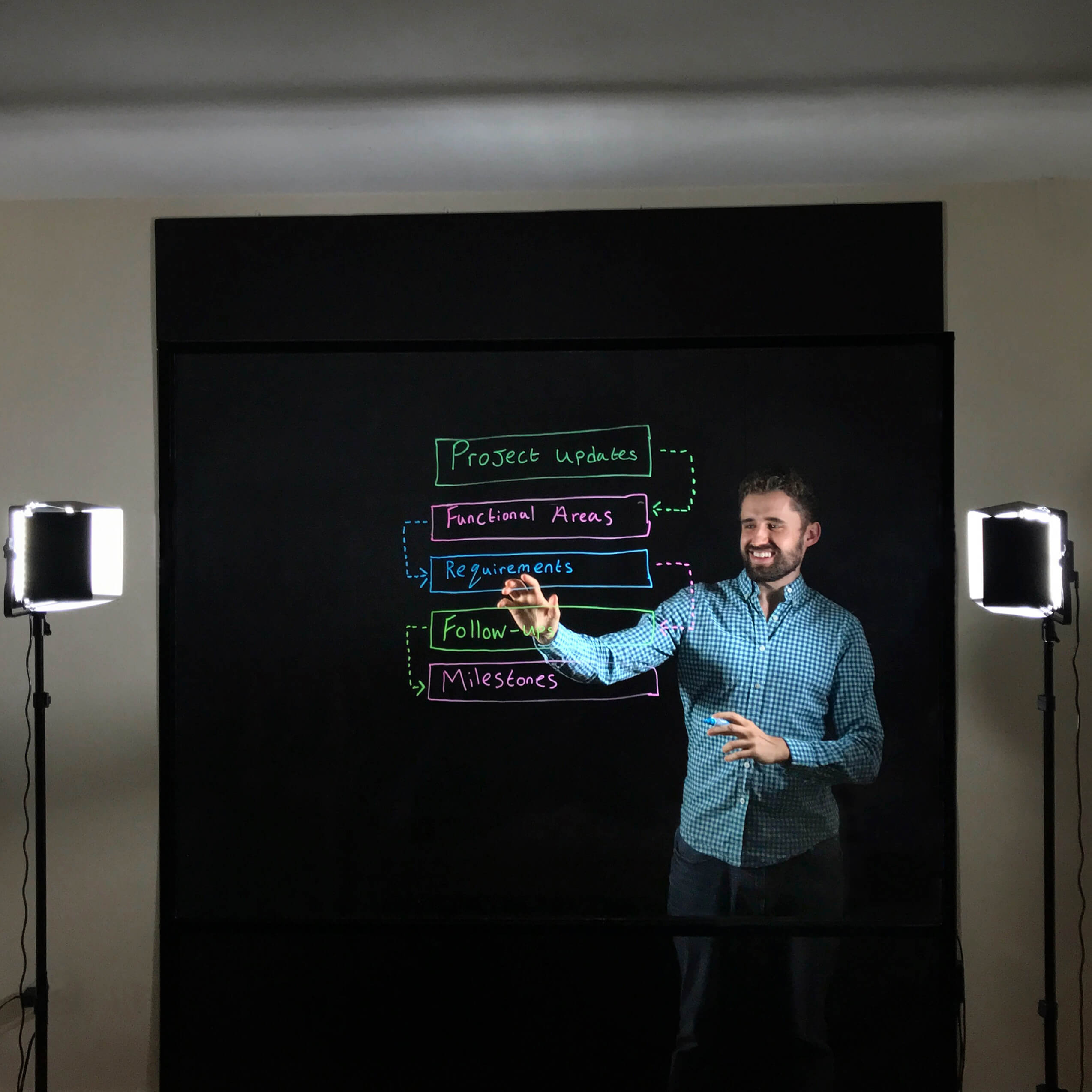 Studio Presenter Lights in action
Our studio lights make it easier to configure the camera settings correctly because it provides directional lighting on the presenter without making the backdrop visible or causing light glares on the Lightboard.
Package includes
2x Studio Presenter Lights (see more product details)
2x Studio light stand
4x Carry case for studio light equipment
User Guide

5 Reasons to select our Studio Presenter Lights
1

Brightness & Colour temperature
Make the presenter look great on camera by adjusting the brightness and colour temperature to work with your unique studio environment and video style preference.

2

Barn doors for directional lighting
Lighting up the presenter without shining a light at the backdrop (so it doesn't become visible to the camera) or the Lightboard (avoiding light glare) is essential for making your Lightboard videos look professional. The barn doors on the lighting system only direct light evenly across the presenter, so you stand out in your videos along with your drawings on the board.

3

Height & tilt adjustable
Fully adjustable height and tilt function ensure the studio lights work for everyone and in every studio setup. Once you set the position, you can easily lock it in place to save time when recording future videos.

4

Light Diffuser
The diffuser helps spread the light evenly across the presenter, making the light softer and avoiding unwanted light glares for better-looking Lightboard videos..

5

Compact Lighting system
The studio lights are compact to reduce the overall footprint a Lightboard studio occupies in your home or work office. The studio lights can also be dismantled to make them easier to store or move when required.

Have any questions? Contact us